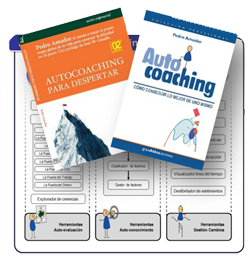 Three practical books describe the methodology and facilitate their learning, "Autocoaching: how to get the best of oneself" (2009 - published by Gran Aldea Editores for the Latin American market and 2011 published by Grancher, ABC Collection in the French market), "Autocoaching para despertar"(2010 - published by LID) and appeared in May 2011, the first book-blog which is freely available in www.conseguirlafelicidad.com (only Spanish) and explores the pursuit of happiness.

Manuel Seijo
Introspection leads to self-consciousness; in this case Autocoaching is a tool that leads you to the development process. A magnificent ...

Ana Mañas
Self-consciousness is the first step to happiness. This book -clear, educational and easy to read- is a enormous help for ...
Autocoaching - How to get the best of yourself

Autocoaching is a personal journey for yourself. A journey to know you better and enjoy more of life with people you appreciate. The book describes in a clear and easy to read way how it helps people improve their lives. It explains how to identify their current reality and pave the way towards the necessary changes. These changes are aimed at achieving targets in the short and long term and that each individual specified in its corresponding 'Future'